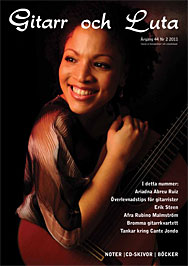 The Swedish Guitar and Lute Society, SGLS was founded 1968 by Jörgen Rörby. It is a non-profit organization open to all those interested in guitar and lute. A magazine is published four times a year, Gitarr och Luta. The SGLS arranges a course (Swedish Guitar and Lute Festival) every year with well known guitar and lute personalities as guest teachers. The Society works towards qualified guitar and lute playing and supports ensembles in varioes ways in Sweden. The SGLS has many members in differents countries and strives for broad international contact.

For further information write to: The Swedish Guitar and Lute Society, c/o Roland Hogman, Riastigen 16, S-125 33 Älvsjö, Sweden.
E-mail: sekreterare@sgls.nu
Membership dues can be paid to postal giro (Girobank) 40 93 55-5, Sweden, or wirh an international money order.

IBAN: SE60 9500 0099 6034 0409 3555, BIC: NDEASESS

Fees are SEK 320 for 2016.

Click on picture to download and read the magazine in PDF format.
Pablo Marquez
teaching in Masterclass.
Liten Gitarrakademi 2010.